E-mail a Friend About Waihuena Farm!
To tell someone about Waihuena Farm, just enter the information requested below, preview your message, then send it. *Neither your e-mail address nor the recipient's will be recorded, so you don't have to worry about these addresses being used for anything other than sending this message.

A template of the message sent is displayed below the mailing form.
Message Template
Hi RECIPIENT_NAME,

SENDER_NAME stopped by at www.top10fresh.com today, and thought the following item might be of interest to you.
To see the full page in its original setting (complete with reviews not shown here) click here.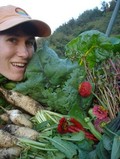 Not accepting new reviews | Visit Website
Average Customer Rating
4.7 / 5
Average Rating based on 1 Review

Consumer Appeal

(5.00)

Wholesaler Appeal

(5.00)

Farm Visitor Appeal

(4.00)
Compared to group locale averages

Consumer Appeal

(4.50)

Wholesaler Appeal

(4.78)

Farm Visitor Appeal

(4.78)



Waihuena Farm

Locale ID HI9002

Run by Meleana Judd



About

Aloha, Waihuena Farm is a very special three acre lot on beautiful North Shore Oahu just across the street from Pipeline.

While we have big dreams for the farm, including becoming a co-op & hosting ecological living and permaculture workshops etc, we are focusing on a $25 weekly share CSA program. We are working with other farmers to offer a wide variety of YUM!

The farm also has lodging available and we hope to create a true agtourism destination for visitors and kamaaina alike. meleanasfarm.com coming soon!

working on building a real community around the farm. trying to be flexible and accommodating, consistent yet interesting. our baskets will include cooking greens- chard, kale, pak choi, etc herbs- basil, parsley, cilantro, oregano, olena/ turmeric, etc veggies- eggplant, okra, daikon, wing bean, pumpkin, tomato, etc salad greens- lettuce mixes, flowers, sprouts, etc fruits- bananas, papayas, avos, starfruit, watermelon, etc citrus- lemons, limes, tangerine, grapefruit, etc starches- kalo, chayote, ulu/breadfruit, uala/sweet potato, etc value added goods- baked goods, pesto, kombucha, etc eggs coming soon!



Click for Locale Profile






Last Update: August 4, 2013